People crowded the Gansu Pavilion of Shanghai World Expo today to mourn the victims of a massive landslide that left at least 1,239 dead and 505 missing in northwest China' s Gansu Province a week ago.
At 10 am, people in the pavilion, wearing small plastic white flowers on their chests, stood in silence tribute for three minutes. Then visitors took off the white flowers and put them onto a glass table under a map of Gansu, on which the location of Zhouqu was signaled out by a dot.
Visitor Du Jingli, 50, from Gansu slowly placed her flower on the table and gazed at the map for seconds. "I don't know what to say, I just feel sorrowful for them." Du had planned to visit the China Pavilion first but changed her mind when she heard of the mourning.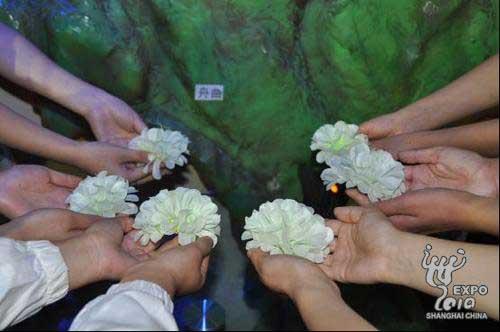 Gansu Provincial pavilion staff members use hand-make silk flowers that they made
by themselves to mourn mudslide victims.
The pavilion was dimly lit as most of its lights were turned off. Only a few were used to light a banner bearing the words "Deep Condolences to People Killed in Zhouqu Mudslide" in large black Chinese characters and hung in the pavilion' s main exhibition room.
"Let us keep the lost lives in memory, put aside the pains and join hands in rebuilding Zhouqu," Li Shumin, deputy head of the pavilion, said after the ritual.
The Expo Bureau has announced that no entertainment activities would be held in the Expo Park today, the National Mourning Day for Zhouqu mudslide victims. The Gansu Pavilion would not hold any entertainment activity until September, its spokesman Wang Shigang told Xinhua.
Related stories