HARBIN, Aug. 16 (Xinhua) -- An explosion at a fireworks factory injured at least ten people in northeast China's Heilongjiang Province Monday, local authorities said.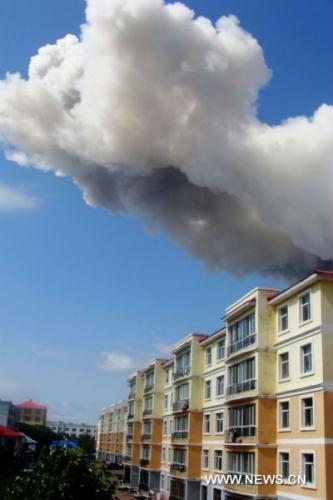 Photo taken on Aug. 16, 2010 shows smoke rising after
an explosion happened in Yichun, a city in northeast
China's Heilongjiang Province. An explosion occured
in a firecrackers factory in Yichun on Monday.
(Xinhua/Chen Peihua)
The explosion occurred at 9:40 a.m. at the factory in Wumahe District, Yichun City. Windows of buildings several kilometers away from the factory were shattered in the blast, residents told Xinhua.
As of 11:30 a.m., rescuers had saved ten people, all of whom were hospitalized.
There are usually 40 to 50 people at work in the factory on workdays. The exact number of workers is unknown in the factory when the explosion occurred.
No other information is available at the moment.