ISLAMABAD, Aug. 16 (Xinhua) -- Visiting UN Secretary General Ban Ki-Moon Sunday announced additional 10 million U.S. dollars from the UN Central Emergency Response Fund for the relief and rescue of flood affected people, taking the total UN assistance to 27 million.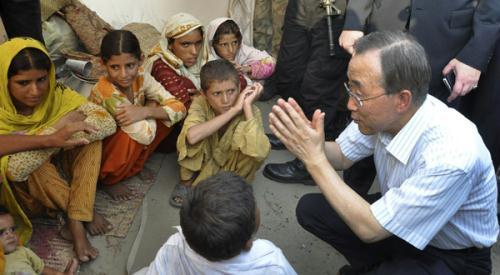 U.N. Secretary-General Ban Ki-moon gestures to young flood victims after
visiting them at a relief camp in the Muzaffargarh district of Punjab
province August 15, 2010.(Xinhua/Reuters Photo)
"I feel distressed by the devastation caused by floods," the UN Secretary General said at a joint press conference along with Pakistani President Asif Ali Zardari after visiting the floods-hit areas.
"I have witnessed various disasters across the world, but nothing like this, as the scale of this disaster is so large that one out of every ten Pakistanis has been affected," he said. He added that number of the affected people has reached nearly 20 million.
The UN Secretary-General arrived in Islamabad Sunday morning to see the flood-hit areas, saying that the whole world is behind Pakistan in the hour of trial.
"I have come to see what is going on and urge the world community for speed up assistance," the UN chief told reporters at Chaklala air base in his arrival statement.
"I will have an opportunity to see for myself efforts for the affected people. I will report to the General Assembly on Thursday this week to mobilize all necessary assistance," Ban Ki-moon said. He hoped that with courage fortitude of the government of Pakistan and people will overcome the crises in near future.