MOSCOW, Aug. 16 (Xinhua) -- Acrid smoke from forest and peat bog fires which blanketed Moscow until early last week returned to the Russian capital Sunday as wildfires are still burning around the city.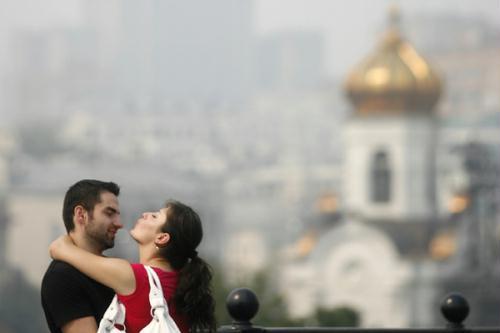 A couple embrace, with buildings shrouded in smog in the background, in central
Moscow, August 15, 2010.(Xinhua/Reuters Photo)
The concentration of carbon monoxide in Moscow air on Sunday morning was more than five times higher than the usual level as shifting winds brought the suffocating smog back from central Russia where three major peat bogs were burning, local media reported, citing officials.
City authorities once again called on residents to close windows and wear respiratory masks due to the return of the poisonous smog, which has been blamed for the mortality rate rise in Moscow.
Tens of thousands of Muscovites were forced to leave the city, while others complained about headaches and nausea. Health experts say even healthy people may feel sick in these unfriendly conditions.
The Civil Defense Ministry said Sunday that across Russia there were now 498 out-of-control fires covering an area of 53,000 hectares of land, down from over 80,000 hectares on Friday.
But blazes still rage in a wildlife reserve near Russia's top nuclear research facilities in Sarov, a small town 300 km east of Moscow, officials warned.
"The fire threatens Sarov as long as the Mordovsky (wildlife reserve) is burning," said Sergei Kiriyenko, head of Russian state nuclear energy corporation Rosatom.
Related stories