BEIJING, Aug. 16 (Xinhua) -- China's top legislature will discuss the constitutional reform package of Hong Kong, which refers to the amendments to the methods of selecting the city's Chief Executive and forming the Legislative Council in 2012, during a bimonthly session scheduled from Aug. 23 to 28.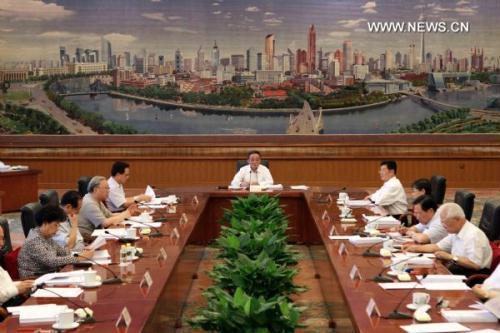 Wu Bangguo (C), chairman of the Standing Committee of China's National People's Congress
(NPC), the country's top legislature, presides over the 48th chairpersons' meeting of the
11th NPC Standing Committee at the Great Hall of the People in Beijing, capital of China,
Aug. 16, 2010. (Xinhua/Liu Weibing)
The draft amendments to Annexes I to the Basic Law of the Hong Kong Special Administrative Region concerning the methods for the selection of the Chief Executive was submitted to the National People's Congress (NPC) Standing Committee for approval by Hong Kong Chief Executive Donald Tsang.
The draft amendments to Annexes II concerning the formation of the city's Legislative Council was submitted to the NPC Standing Committee for the record.
The Legislative Council of Hong Kong passed the draft amendments in June, before Donald Tsang gave his consent to draft amendments later in the month.
According to Monday's Chairmen's Council of the NPC Standing Committee, presided over by NPC Standing Committee Chairman Wu Bangguo, lawmakers will also continue to deliberate draft amendments to the law on officers in reserve service, the draft law on mediation, as well as the draft law on the application of laws to civil relationships involving foreign interests.
Lawmakers will also deliberate for the first time draft amendments to the law of deputies to the NPC and local People's Congresses, draft amendments to the Criminal Law, the draft law on intangible cultural heritages, and the draft revision of the soil and water conservation law.
Also on the agenda of the upcoming session are discussions of the reports on implementation of the national economic and social development plan and budgets, among others.
Editor:Jin Lin |Source: Xinhua