BEIJING, Aug 17(Xinhuanet) --Third-generation compact homes are the designer's "dream version".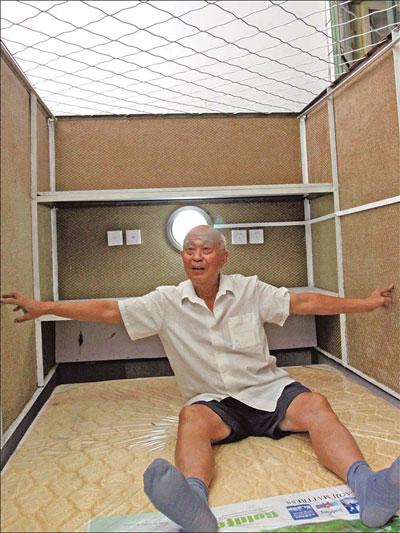 Huang Rixin shows his new capsule apartment, which he says is
bigger and better than ever.(Liu Zhe / China Daily )
People are often surprised by the fast rate of change in the electronics industry, where gadgets are regularly upgraded and changed, but few realize such a revolution is also taking place in the housing sector.
Here in Beijing, the race to find a new way to live is being led by 78-year-old designer Huang Rixin, who has been upgrading and improving his plans for capsule apartments - mini condos about the size of a bed - in recent weeks.
Huang spent the past month building a bigger and better-equipped capsule home - the third generation of his project that he hopes to offer for rent in a month's time.
The new capsule apartments are located in Mayu village, Mentougou area, outside the West Fifth Ring Road. The homes are about 20 km southwest of the site of his original project.
Huang has divided a 53-square-meter space into eight "capsules". Seven are single-bed rooms and one has a double-bed.
Compared to his last project, which had capsule homes that were each less than two square meters, the new units are larger - 0.48 meters wider. They have a shared kitchen, shower and living room.
The new generation homes have paint on the walls instead of wallpaper.
Although security doors were installed on each room to ensure privacy and the safety of tenants, the walls, which are made of steel and other fireproof materials, are too thin to prevent the easy transfer of noise.
"It is not a high-quality apartment. It is just a temporary room for low-income people who make 1,000 to 1,500 yuan a month and can't afford to rent a regular apartment," Huang said.