KUNMING, Aug. 18 (Xinhua) -- At least 67 people are missing and 25 were injured, nine severely, after mudslides hit a remote town in southwest China's Yunnan Province early Wednesday, local authorities said.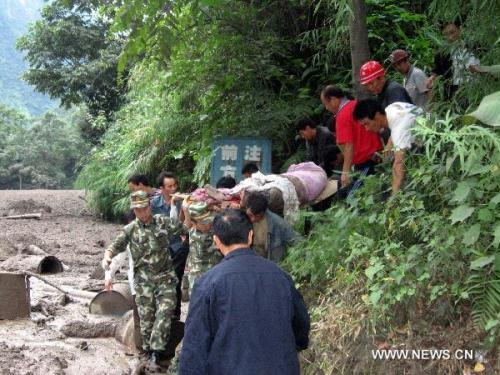 Rescuers carry an injured resident in mudslides-hit Puladi Township of Gongshan
Drung-Nu Autonomous County, southwest China's Yunnan Province Aug. 18, 2010.
Rain-triggered mudslides occurred here on early Wednesday, causing at least
67 people missing.(Xinhua/Zhong Zhifang)
Most of the missing people are employees of the Yujin Iron Mine and villagers in the Puladi Township, in the Drung-Nu Autonomous County of Gongshan, where the mudslides struck at about 1:30 a.m..
"I suddenly heard rumbling late last night and then rushed to a safe place with fellow villagers. I hadn't expected mudslides could come so quickly," said Yu Zhizhong, of Litoudi Village, about 10 km from Puladi township seat.
The mudslides were spread about 300 meters across, villagers and rescuers said.
At least 10 trucks transporting iron ore and 21 houses were buried, said Zhong Zhifang, a spokesperson for local border troops involved in the search and rescue operation.
Roads, power supplies and telecommunications were cut following the mudslides, which were triggered by days of torrential rain, Zhong said.
The first group of 24 border troops arrived at the site, about 17 km from the Gongshan county seat, at 9:30 a.m., and another 103 troops are en route to the area, Zhong said.