BEIJING, Aug. 18 (Xinhua) -- Chinese President Hu Jintao met here Wednesday with Singapore President S.R. Nathan. They praised the development of bilateral ties and pledged to further cooperation.
"We attach great importance to the relations with Singapore," Hu told Nathan during the meeting at the Great Hall of the People, saying that China-Singapore relations had witnessed remarkable development since the two forged diplomatic ties 20 years ago.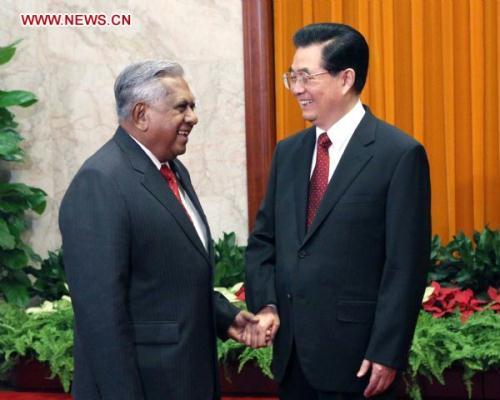 Chinese President Hu Jintao (R) meets with Singaporean President S. R. Nathan
in Beijing, capital of China, Aug. 18, 2010.(Xinhua/Ma Zhancheng)
"We applaud Singapore's adherence to the one-China policy and its support to our national reunification," Hu said.
Hu said that China would work with Singapore to enhance political mutual trust and actively carry out the China-Singapore and China-ASEAN (the Association of Southeast Asian Nations) free trade agreements.
He also expressed his hope that the two nations would increase bilateral cooperation in the high-tech and human resources sectors to achieve mutually successful results and common development.
Nathan said China's economic growth was conducive to Singapore and the region at large. He welcomed more Chinese businesses to invest in his country and conduct mutually beneficial cooperation.
The two presidents spoke highly of the development of the Suzhou Industrial Park and the Tianjin Eco-City in China as landmark projects of China-Singapore cooperation.
Related stories