BEIJING, Aug. 19 (Xinhua) -- Chinese Vice Premier Li Keqiang has urged food quality authorities to strengthen supervision in order to significantly improve food safety.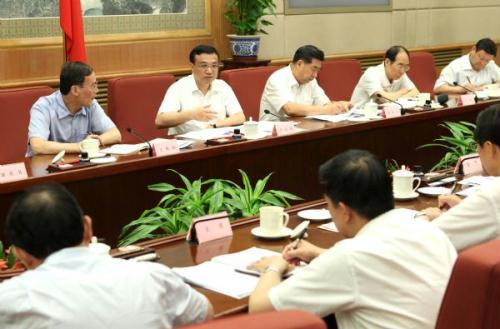 Chinese Vice Premier Li Keqiang (2nd L, back) presides over a plenary meeting of the
food safety commission under the State Council in Beijing, capital of China, Aug. 16,
2010. (Xinhua/Ma Zhancheng)
Li, who also chairs a national food safety commission, made the remarks at a recent conference of the commission.
He further called for efforts to optimize the supervision and accountability system for food safety, which would be made up of local governments, food companies and other related government departments.
Authorities must constantly crackdown on unsafe food, with specific operations to uncover and destroy "problem milk powder" .
The government would hold accountable related officials in areas recording repeated food safety incidents and those who committed dereliction of duty in food safety supervision, he said.
A long-term mechanism must be formed to ensure the safety of "major products" such as diary products and edible oil, he said.
At the conference, senior officials from the health ministry and other central departments described the ongoing work of uncovering "problem milk powder" and the plans to establish a long-term mechanism to ensure the safety of diary products.
The establishment of the commission early this year followed a string of nationwide crackdowns and arrests in the wake of new melamine-tainted milk products being found in Shanghai as well as Liaoning, Shandong and Shaanxi in recent months.
The melamine milk scandal occurred in 2008. Milk laced with melamine led to the deaths of six babies and sickened 300,000 others who had been fed with baby formula made from tainted milk.
Related stories
Editor:Jin Lin |Source: Xinhua