BEIJING, Aug. 18 (Xinhua) -- Chinese Vice Premier Hui Liangyu on Wednesday called on authorities to focus on resettlement of survivors in mudslide-flattened Zhouqu County in northwest China's Gansu Province.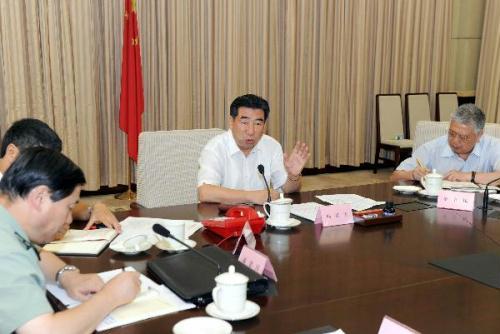 Chinese Vice Premier Hui Liangyu (C) presides over a State Council meeting on the disaster relief and rescue work in the mudslide-flattened Zhouqu County of northwest China's Gansu Province, in Beijing, capital of China, Aug. 16, 2010. (Xinhua/Zhang Duo)
Efforts must be made to provide the survivors with adequate food, clothes, shelter, medical services and drinking water, Hui said at a State Council meeting on the disaster relief and rescue work in Zhouqu.
He urged authorities to accelerate clearance of waterways near Zhouqu and the clean-up of sludge and debris in the county's urban areas, in order to pave way for repairs of infrastructure facilities and reconstruction projects.
Efforts should also be made to ensure public order in the mudslide-hit regions, Hui said, adding that schools should resume classes in the upcoming fall semester, while banks and postal offices should reopen as soon as possible.
He also urged the authorities to make preparations for post-disaster reconstruction of the mudslide-hit regions.
He said related authorities must promptly send competent teams to the disaster scenes to assess losses so that reconstruction plans can be made on the basis of the findings.
He said the alert system for mountain floods must be optimized, as well as for other geological disasters, and disaster control plans must be drawn up.
In particular, he urged efforts to assess whether the centralized makeshift camps, relief workers camps and reconstruction projects were located in safe areas.
For disaster-prone areas, alert and evacuation plans must be made well in advance to ensure no more residents died or got injured, he said.
He further called on the National Development and Reform Commission, Gansu provincial government and other related government departments to formulate an overall reconstruction plan as well as specific plans to restore housing, social service facilities and infrastructure in the region.
Related stories
Editor:Jin Lin |Source: Xinhua