A group of environmentalists set off from Geneva, Switzerland, traveling in electric vehicles for an "Around the World in 80 Days" trip Monday, CRI reports.
The global tour, named "Zero Race," aims to promote emissions-free transportation and November's world climate conference.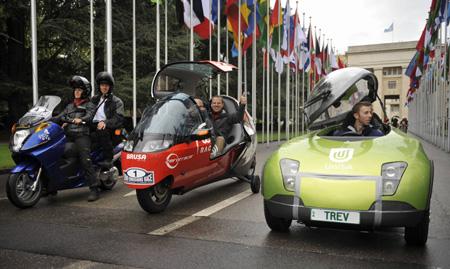 Participators get ready to start their electric vehicles in front of the
Palais des Nations in Geneva on August 16, 2010.[Photo:CRI]
It was organized by Swiss schoolteacher Louis Palmer and won support from the United Nations Environment Program.
Four teams from Switzerland, Germany, Australia and South Korea will join the 30,000-meter excursion, which will take them to 16 countries and 150 cities in the world.
The caravan will stop off at the World Climate Conference in Cancun, Mexico, and head back to Geneva in January 2011.
Participants in the "Around the World in 80 Days" trip take photos in the
United Nations Plaza in Geneva, Switzerland, on August 16, 2010.
All vehicles must use carbon-free energy such as electricity, wind, solar and hydroelectric power.
Three teams participated in Monday's launch ceremony held in front of the Palais des Nations with the attendance of Jan Kubis, the special envoy of UN Secretary-general Ban Ki-moon.