CANBERRA, Aug. 19 (Xinhua) - Australian Prime Minister Julia Gillard on Thursday stressed why voters should give Labor another term and painted the Coalition as reckless spenders in her final speech to voters at National Press Club.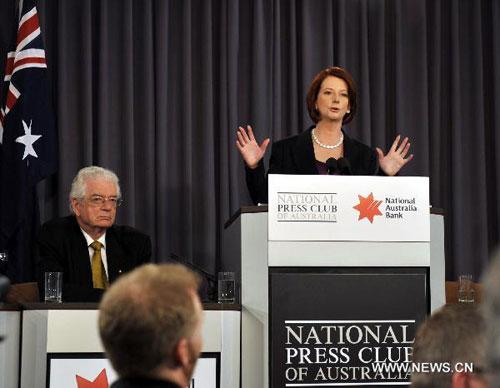 Australian Prime Minister Julia Gillard delivers a speech at the National Press
Club in Canberra, capital of Australia, on Aug. 19, 2010. (Xinhua/Huang Xiaoyong)
In a new announcement, she has said Labor's paid parental leave scheme will be widened to allow fathers and other carers to have more time at home after the birth of a baby.
Labor would provide two weeks of parental leave at the minimum wage - currently 570 dollars (511 U.S. dollars) - from July 1, 2012, the prime minister said. "Most working fathers take some time off work ... but this is usually for a short period only," Gillard said.
Gillard has said an estimated 220,000 fathers and carers would be eligible for the payment, at an estimated overall cost of 90 million dollars (80.6 million U.S. dollars) a year.
Meanwhile, the Opposition has been offering mothers 26 weeks' leave at the rate of their salary up to 150,000 dollars (134,505 U. S. dollars), but will impose a 1.5 percent levy on the country's biggest companies to fund the plan.
Gillard has also pushed her campaign themes of Labor's response to the global financial crisis and broadband. She has ridiculed Opposition Leader Tony Abbott's broadband plan.
"You can only imagine his excitement when he finally finds YouTube," Gillard has said. "I will build the national broadband network, Abbott will not. It could not be clearer."
On climate change, she has reiterated her promises to offer " record investment" on solar and renewable energy. But there was no mention of an emissions trading scheme or her citizen's assembly plan in her prepared remarks.
Every minute will count for both leaders as they head into a frenzied last two days of election campaigning, with polls showing Labor has a slight lead.
Australia's general election was set on this Saturday Aug. 21.
Editor:Zhang Pengfei |Source: Xinhua