BEIJING, Aug. 20(Xinhuanet) -- Images from NASA's Lunar Reconnaissance Orbiter have uncovered evidence that the moon is shrinking, U.S. media reported Thursday.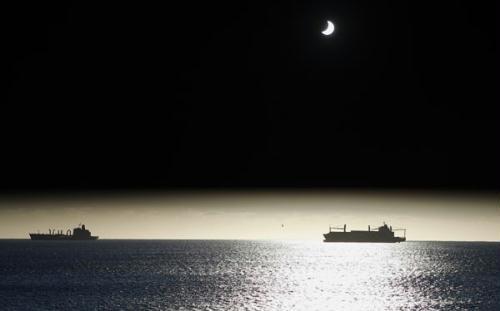 The moon passes between the sun and the earth during a solar eclipse in Valparaiso
City, 75 miles (121 km) northwest of Santiago, July 11, 2010. (Xinhua/Reuters File
Photo)
Astronomers said that they had found previous undetected landforms which have proved of the moon's shriking movement
The landforms, called lobate scarps, are faults created when the moon's once-molten interior began to cool, causing the lunar surface to contract and then crinkle, they said.
Given the moon's estimated age of 4.5 billion years, the contraction is recent, occurring less than a billion years ago, and is measured at about 100 meters.
Lobate scarps were first spotted near the lunar equator in the 1970s by panoramic cameras aboard the Apollo 15, 16 and 17 missions.
Fourteen new faults have been been spotted in high-resolution images taken by NASA's Lunar Reconnaissance Orbiter.
Editor:Jin Lin |Source: Xinhua