BRASILIA, Aug. 20 (Xinhua) -- Brazil on Thursday marked World Humanitarian Day to honor those who died while providing humanitarian aid worldwide.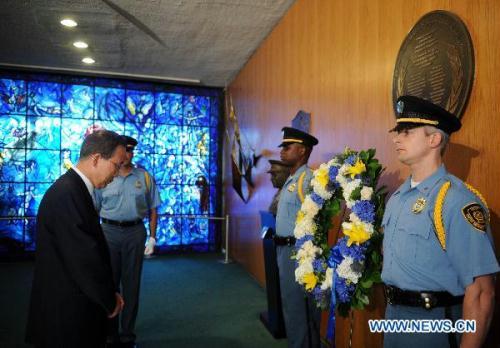 UN Secretary-general Ban Ki-moon pays tributes to UN humanitarian workers who lost their lives
during the truck bombing of the then U.N. headquarters in Baghdad in 2003, at a ceremony to
observe the second annual World Humanitarian Day at the UN Headquarters in New York, the United
States, Aug. 19, 2010. Ban Ki-moon on Thursday called on the international community to
remember and honor humanitarian workers and their sacrifices as they have been making their
tireless efforts to help those who have lived through wars, catastrophes and other
terrible events.(Xinhua/Shen Hong)
"These people who dedicated their lives to saving others deserve all our respect," Brazilian Foreign Minister Celso Amorim said at a ceremony in Brasilia.
So far this year, Brazil has donated about 19 million U.S. dollars in humanitarian aid, according to the country's Ministry of Foreign Affairs.
Andres Ramirez, representative of the UN High Commissioner for Refugees (UNHCR) in Brazil, spoke highly of Brazil's efforts in providing humanitarian aid.
"The bad news is that the number of deaths involving people who work in humanitarian action is increasing," Ramirez said at the ceremony.
According to Aid Worker Security Database, in 1999 about 65 humanitarians were involved in serious security accidents, 30 of whom died. Ten years later in 2009, 278 people were involved in serious security incidents while making humanitarian efforts worldwide, 102 of whom died.
World Humanitarian Day was established by the United Nations in 2008 in memory of those who died in a hotel bombing incident in Baghdad in 2003, which killed Brazilian diplomat Sergio Vieira de Mello, then Special Representative of the UN Secretary-General, and other 21 UN officials.
Related stories
Editor:Jin Lin |Source: Xinhua