NEW YORK, Aug. 22 (Xinhua) -- Protesters representing both sides of the debate over the construction of an Islamic community center and mosque a few blocks away from the Ground Zero rallied in downtown New York City on Sunday.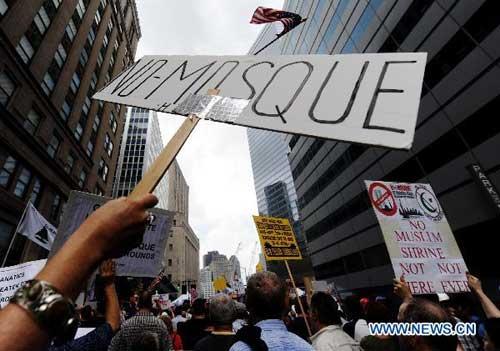 People attend a rally to protest against a proposed Muslim cultural center and
mosque near the World Trade Center site in New York, the United States, Aug. 22,
2010. (Xinhua/Shen Hong)
Hundreds of protesters braved the rain in Lower Manhattan to voice their position on the planned project amid the national debate over the facility. Firefighters, families of the 9/11 terror attacks victims, first responders and residents of the neighborhood also joined the protests.
Anti-mosque protesters held banners that said, "No mosque here. Preserve the dignity of our loved ones killed on 9/11," while supporters carried signs reading, "America! When did it become OK to be a bigot!" and screamed "Hallowed ground, that's a lie!"
A heavy police presence stood in between to separate the two sides.
The Coalition to Honor Ground Zero organized the rally against the construction of the center. The NYC Coalition to Stop Islamophobia staged the counter-protest.
The planned Islamic center that is two blocks away from the Ground Zero, where terrorists claiming to act in the name of Islam killed more than 2,700 people on September 11, 2001, has attracted intense views of political and religious leaders, victims families.
New York City Mayor Michael Bloomberg has stood in support of the mosque project, while Governor David Patterson has attempted to broker a compromise offering the developers to swap the proposed site with state-owned land elsewhere.