LOS ANGELES, Aug. 21 (Xinhua) -- A Southern California company on Saturday announced a voluntary recall of eggs from an Iowa farm over fears of salmonella contamination.
Luberski Inc. of Fullerton said it would recall eggs distributed to food wholesalers, retail centers and food service companies in California and Nevada.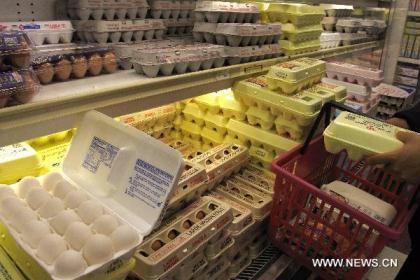 Eggs are seen at a supermarket in New York, the United States, Aug. 20,
2010. A U.S. egg company has extended a nationwide food recall to 380
million eggs, after outbreaks of salmonella poisoning in a number of
states. (Xinhua/Wu Kaixiang)
The company said the eggs were from Wright County Egg in Iowa, which recalled 380 million eggs earlier this week.
The recall affects cartons under the Alta Dena Dairy, Driftwood Dairy, Hidden Villa Ranch and Challenge Dairy brands.
Luberski Inc. has become the latest company to recall eggs suspected of being tainted with salmonella.
On Friday, Iowa's Hillandale Farms said it was recalling more than 170 million eggs after laboratory tests confirmed salmonella.
The recalls were related with an outbreak of salmonella nationwide, which has sickened more than 1,000 people.
Preliminary investigation has identified salmonella enteritidis as the strain of disease that caused the poisoning.
Health departments nationwide received almost 2,000 reports of illness from the strain of salmonella linked to the series of recalls between May and July, but about half have been confirmed as salmonella-related.
The number of illnesses is expected to rise as the Centers for Disease Control and Prevention (CDC) is continuing to receive information from state health departments as people report their illnesses, health officials said.
Salmonella is an organism which can cause serious and sometimes fatal infections in young children, frail or elderly people, and others with weakened immune systems. The most common symptoms are diarrhea, abdominal cramps and fever within eight hours to 72 hours of eating a contaminated product.
Thoroughly cooking eggs can kill the bacteria. But health officials are recommending people throw away or return the recalled eggs.
Editor:Zheng Limin |Source: Xinhua