BEIJING, Aug. 20 (Xinhuanet) -- A new international study shows the Andalgalornis, a giant terror predatory bird, killed their prey by using their huge skulls and hooked beaks like a hatchet, according to British newspaper Daily Mail.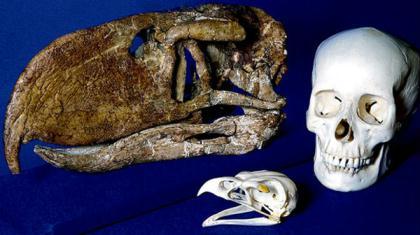 This undated handout image provided by Ohio University shows a fossil
skull of the terror bird Andalgalornis, compared with the skull of a
modern-day golden eagle and a human skull for scale. Andalgalornis was
an extinct, 1.52-meter-tall, flightless predatory bird found as
6-million-year-old fossils in northwestern Argentina.(Photo Source:
gb.cri.cn)
The huge, fearsome birds, which stood around 1.52m tall and dominated South America six million years ago, launched precision strikes on their victims before retreating and then attacking again.
Lawrence Witmer of the Ohio University College of Osteopathic Medicine, said: "These guys were not sluggers; they couldn't go in a grapple with prey. They had to stand back and dance around and make hatchet-like jabs."
He added the design of their head, which had rigid beams and a hollow beak, meant they had to employ an "attack and retreat strategy... trying to kill the animal then swallow it whole, if they could, or use the bill and strong neck muscles to rip off chunks of flesh."
Paleontologists used a three-dimensional X-ray scans to analyze the structure of a terror bird's skull and found it to be quite different from modern birds.
"Birds generally have skulls with lots of mobility between the bones, which allows them to have light but strong skulls," Witmer said.
"But we found that Andalgalornis had turned these mobile joints into rigid beams. This guy had a strong skull, particularly in the fore-aft direction, despite having a curiously hollow beak."
The birds, part of the Phorusrhacidae family, are thought to have died out around 2.5million years ago.