SHENYANG, Aug. 22 (Xinhua) -- Some 253,500 residents have been safely evacuated in northeast China's Liaoning Province after torrential rains caused waters to rise to the highest level in more than a decade along a major river bordering China and the Democratic People's Republic of Korea (DPRK), local officials said Sunday.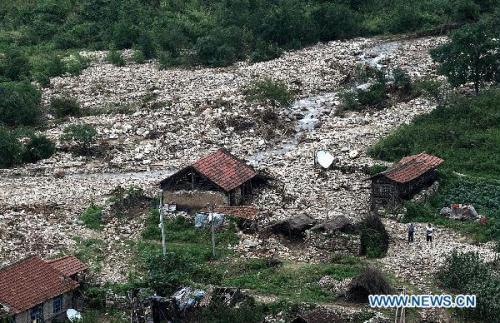 Photo taken on Aug. 22, 2010 shows the bird's-eye view of a damaged village after
flood in Dandong City, northeast China's Liaoning Province. Heavy rains hit
Dandong from Aug. 19 to 21, causing flood around the area.(Xinhua/Yao Jianfeng)
The hundreds of thousands of residents, mostly in Dandong City, were relocated in less than 24 hours from late Saturday to Sunday, provincial flood control authorities said. Among those rescued was a 23-year-old woman who gave birth to a healthy baby just hours after she was air-lifted out of the flood zone.
No new casualties were reported on Sunday. Previously, authorities said four people were killed and one remains missing following floods in Dandong, a border city facing Sin'uiju City in the DPRK.
Heavy rainfalls that began Thursday have swelled the Yalu River, which marks the border of China and the DPRK. On Saturday night, the water level at one monitoring station in Dandong rose to 2.35 meters above the warning line, the highest in a decade and the second highest since records began being kept in 1934.
However, water levels began to dip late Sunday as rains stopped, though provincial authorities warned that the danger has not yet passed.
Workers are racing to build sand bag flood barriers along part of the river where the water has overflowed. Over two thousand soldiers and crews have been mobilized to rescue stranded residents. About 70 vehicles, 38 speed boats and six helicopters were used in the rescue operations, local officials said.