by Shi Lei and Si Ruo
BEIJING, Aug. 23 (Xinhuanet) -- Strange landforms in the barren lands of Xinjiang, Gansu and Qinghai may look like abandoned cities, but they are really natural sculptures carved by the wind. Shi Lei and Si Ruo report.
Scattered across the barren lands of China's far west are mysterious cities of rock and sand, wind-blown labyrinths known as "ghost cities" built not by man but by nature.
For thousands of years, the wind carrying sand and grit has carved the rock into ridges called yardangs, which follow the direction of the prevailing wind. Some are shaped like pyramids, towers, canine teeth or grotesquely shaped ridges.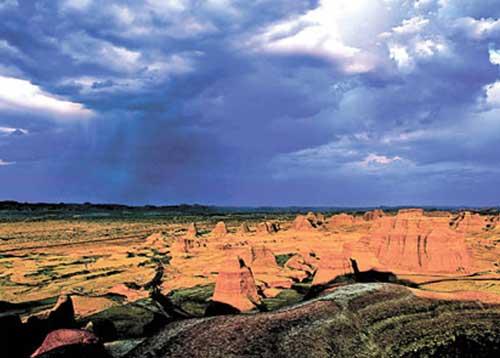 In the blazing sun, the Urho ghost city looks almost like a golden palace rising high
above the barren expanse. It's hard to imagine that this area used to be a wet and
lush haven for dinosaurs around 100 to 200 million years ago.(Source: Shanghai Daily)
Travelers can often hear a crackling sound, like that of firecrackers. That's the sound of "construction" in the ghost cities, the cracking of rocks caused by repeated temperature changes, expansion and contraction. Surface temperatures can reach 70 degrees Celsius at midday, enough to melt wax, but it can be freezing at night.
Many explorers have lost their way in these massive labyrinths, including Swedish explorer Sven Hedin, who first described yardang formations. In 1899 he discovered the lost kingdom of Loulan in what is now Xinjiang Uygur Autonomous Region. Several of his assistants perished in the dried salt lake of Lop Nor. These mazes also claimed the lives of renowned Chinese explorers Yu Chunshun and Peng Jiamu.
The arid west and northwest were not always this dry. Millions of years ago, crustal movement caused land to subside and numerous basins were formed; these attracted the flow of many rivers and subsequently lakes were formed. The sediment carried by rivers was deposited in layers in the basins. Eventually tectonic uplift and climate change caused the lakes to dry up and the remaining sediment provided the "building materials" of the ghost cities that followed.
Lop Nur is home to several ghost cities. But the area was a lake that dried up only in relatively recent times. Around 2,000 years ago, the area was an oasis of life and vegetation, with horses and cattle grazing. The lake nourished the ancient kingdom of Loulan on its western banks. In fact, Sven Hedin wrote of the mirror-like surface of the lake just a century ago.
Lop Nur slowly "died" due to a drier climate, as well as damming of the Konqi River that fed the lake. By the 1960s the lake was dry. The ghost city in Dunhuang (Gansu Province) was part of the ancient Lop Nur.