Sanya Marriott Resort & Spa offers a perfect white-sand beach experience in tropical Hainan province's Yalong Bay.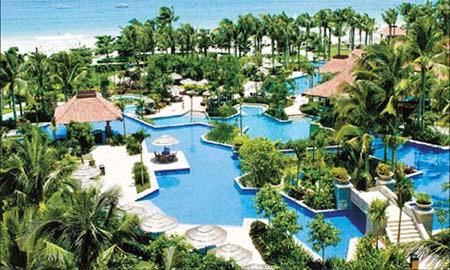 Sanya Marriott offers a luxurious location for swimming, such as its sprawling,
picturesque two-tiered pool.[Source: China Daily]
Stephan Stoss is only too happy to have another opportunity to immerse himself in Chinese culture, as he still regrets not seeing more of the country eight years ago.
"I am indeed very interested in Chinese culture and its glorious history. I hope this time I can explore more of the cultural scenes and wonderful historic sites," says Stoss, general manager with Sanya Marriott Resort & Spa.
"I have set aside time in my daily schedule to study Mandarin and I hope that I will be able to master a bit of the language over time."
But he is looking forward to the challenge, and to the responsibility of maintaining the high status of the hotel, which is located on China's booming "international tourism island" of Hainan province.
"The new title is a signal that the government is committed to turning Hainan into an island fully developed for tourism. And I believe that in a very short space of time there will be significant infrastructure changes," Stoss says.
"Many more notable international brands will enter, which will surely bring in more competition and meanwhile the chance to quickly enhance the island's international recognition."