GONGSHAN, Yunnan, Aug. 23 (Xinhua) -- The death toll from the mudslides in a remote mountain township in southwest China's Yunnan Province has risen to 32, with 60 others still missing as of 6:00 p.m. Monday, said a local official.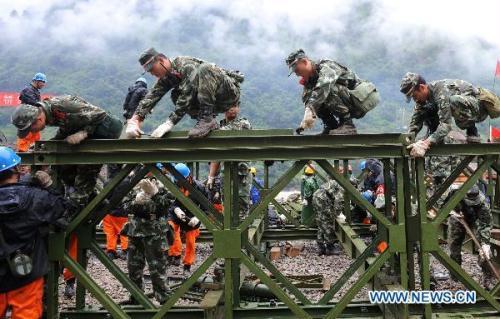 Soldiers and workers fix steel frame to set up a bridge spanning over Dongyuegu River
in mudslide-hit mountainous town of Gongshan, southwest China's Yunnan Province,
Aug. 23, 2010. A woodened temporary bridge spanning over Dongyuegu River destroyed
by floodwater Aug. 22, which intercepted transportation of relief goods.
(Xinhua/Lin Yiguang)
Hou Xinrong, police chief of Gongshan County, told reporters that three bodies were recovered Monday -- one under mudslide debris and two at the downstream of the swollen Nujiang River.
People can walk across a newly-built bridge into and out of the disaster-hit area Monday, but the bridge needs further consolidation before vehicles can cross it, Hou said.
The mudslides struck Puladi Township in Gongshan at about 1:30 a.m. Wednesday, burying villages under a deep sludge of mud. Rescue and relief efforts had been hampered by continuous rain.
Related stories
Editor:Du Xiaodan |Source: Xinhua