Relax at a real beach in Shanghai's suburbs,During summer, the Jinshan district, just an hour's drive from downtown Shanghai, might well be the perfect place for a relaxing weekend for harried and hot Shanghainese.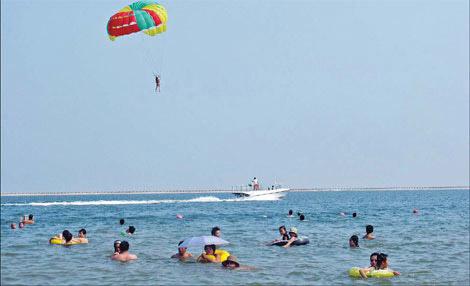 Jinshan City Beach makes for a pleasant summer day trip for its clean sea water,
golden beach, fresh seafood and colorful beach activities. Gao Erqiang / China Daily
In fact, nature at Jinshan City Beach has been improved on. The beach's golden sand has been imported from China's tropical paradise of Hainan Island. And a powerful water filtration system has been installed to turn the sea into a surprisingly appealing shade of blue.
And with an-almost perpetual light sea breeze, it certainly beats sweating it out in the city.
It is not only Jinshan City Beach that attracts so many visitors during the summer months. The district's cultural heritage, especially its folk art, draws numerous tourists who are keen on Chinese traditional culture.
Jinshan City Beach is located in the south of Jinshan district, facing Hangzhou Bay. The rarely combined view of the city and the natural coastal beauty not only gives mixed feelings of dynamism and relaxation, but also provides both a romantic and lively atmosphere in equal doses.
Jinshan City Beach makes for a pleasant day trip from downtown Shanghai. It certainly ticks all the boxes - you can swim, sunbathe, catch crabs and stroll along the boardwalk. There is even jet-skiing and scuba diving on offer.
On the beach, hordes of young people involve themselves in many activities. There is climbing and bungee jumping, aquatic cycling, beach volleyball, a gymnasium, a small recreation park with carnival rides and, of course, swimming.
The eastern end of the beach is much the quieter, with the popular (and often packed) western end given over all the above-mentioned activities along with thumping techno piped through the loudspeaker system.