WASHINGTON, Aug. 23 (Xinhua) -- A U.S. district court on Monday issued a temporary injunction to federal funding of embryonic stem cell, saying it involved the destruction of human embryos.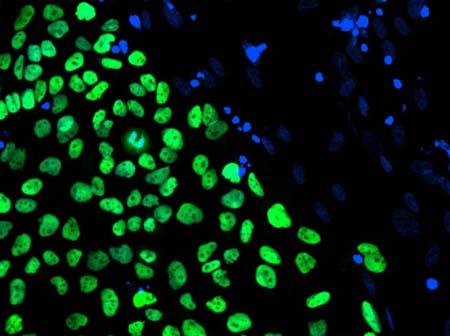 A human embryonic stem cell line derived at Stanford University is seen in
this handout photo released to Reuters by the California Institute for Re-
generative Medicine, March 9, 2009. (Xinhua/Reuters File Photo)
The ruling comes after the U.S. National Institutes of Health last year issued new guidelines permitting federal funding for research on certain stem cell lines that had already been created.
Judge Royce Lamberth's ruling said all embryonic stem cell research involves destroying embryos, which violates the Dickey-Wicker Amendment included in federal spending bills.
"To conduct ESC (embryonic stem cell) research, ESCs must be derived from an embryo. The process of deriving ESCs from an embryo results in the destruction of the embryo. Thus ESC research necessarily depends upon the destruction of a human embryo," he said in the ruling.
"The Dickey-Wicker Amendment unambiguously prohibits the use of federal funds for all research in which a human embryo is destroyed," Lamberth's ruling said. "It is not limited to prohibit federal funding of only the 'piece of research' in which an embryo is destroyed. Thus, if ESC research is research in which an embryo is destroyed, the guidelines, by funding ESC research, violate the Dickey-Wicker Amendment."
The court challenge was brought by adult stem cell researchers who argued the new rules not only would increase competition for limited funds, but violated federal law.
The U.S. Justice Department was reviewing the decision, spokesperson Tracy Schmaler said. The White House and the National Institute of Health had no immediate comment.
U.S. President Barack Obama approved federal funds for expanded embryonic stem cell research on March 9, 2009. The decision was a clear repudiation of the approach taken by the Bush White House.
U.S. law limits the use of federal funds to make human stem cells but former President George Bush tightened restrictions even further.
Related stories
Editor:Yang Jie |Source: Xinhua