By Lin Shujuan (China Daily)
BEIJING - The country will tighten control over the commercialization of its intangible cultural heritage, under its first draft law on the protection of the asset.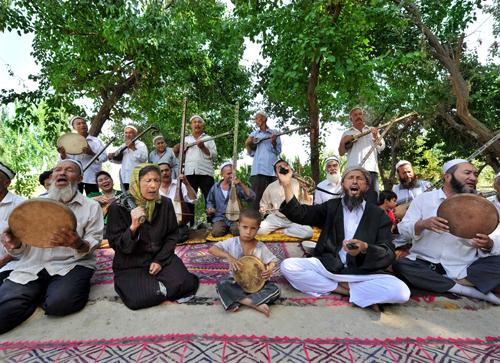 Folk artists in Shche county, Xinjiang Uygur autonomous region, play traditional
songs of the 12 Muqams on July 10. Shche is renowned as the hometown of the
12 Muqams, which are ethnic music and songs on the national intangible cultural
heritage list.(China Daily)
The draft was submitted on Monday to the country's top legislature for its first reading.
The draft law proposes lists of national and local intangible cultural heritage items to safeguard assets that are of historic, literary, artistic or scientific value.
It also specifies the procedures for investigating and certifying an item of intangible cultural heritage and makes it clear that governments at all levels have the responsibility to offer funding and support to protect the items.
Legislators and cultural researchers said the draft law should also stipulate that preservation comes before the commercial use of cultural heritage items, especially amid the rush by local governments to promote cultural heritage for economic benefit.
China embraced the notion of its "intangible cultural heritage" in 2006. Since then, there has been a significant increase in efforts to nominate and list items of intangible cultural heritage in the country.
The United Nations Educational, Scientific and Cultural Organization's (UNESCO) World Intangible Cultural Heritage list has included 29 entries from China, ranging from music performances and folk arts to rituals and oral literature.
The country also established an inventory of 1,028 items on its national-level list toward the preservation of such heritage.