BEIJING, Aug. 24 (Xinhuanet) -- More and more young people these days are losing excessive amounts of hair and doctors blame stress and unhealthy living. Zhang Qian reports.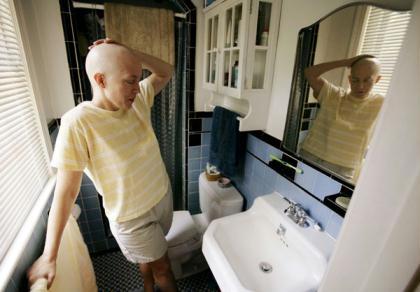 Cancer patient Deborah Charles stands in front of her bathroom mirror
at her home in Washington May 25, 2007. (Xinhua/Reuters File Photo)
While there are many causes of hair loss, a fundamental reason is imbalanced energy, according to traditional Chinese medicine, which usually treats a deficiency in kidney energy.
Today, however, young people increasingly are suffering excessive hair loss because of stress and unhealthy living. Doctors recommend an improved diet with quality protein and less grease, more sleep, less stress, less frequent hair washing and less sustained taxing of the brain.
Certain herbs and herbal applications may help.
Hair Growth
Cell division is responsible for hair growth; new cells push the hair upward. Hair grows at around 1 centimeter a month or 15 centimeters a year. Growth slows with age to as little as 0.25 or 0.1 centimeter a month.
A healthy adult has 100,000 to 120,000 strands of hair, 85 percent growing, 10 percent stable and five percent naturally falling out. Growth cycles last from two to six years, then comes the stable period, then hair drops out and new hair grows. The cycle occurs around seven times until the mid 50s when hair often begins to thin.
But now doctors are seeing more young people, even teenagers, who are losing too much hair, according to Dr Li Yongmei, chief physician of Longhua Hospital attached to Shanghai University of TCM.
Generally, there are two common types of hair loss: patchy hair loss (a relatively small percentage) and alopecie (more than 90 percent), often called male pattern hair loss as it mostly happens in men.
Patchy hair used to be called guititou (hair shaved by a ghost), as ancient Chinese suspected that a ghost stole the hair.