HONG KONG, Aug. 24 (Xinhua) -- All government offices in Hong Kong Special Administrative Region (HKSAR) lowered flags at half- mast Tuesday to mourn Hong Kong tourists killed in the abduction tragedy in the Philippines.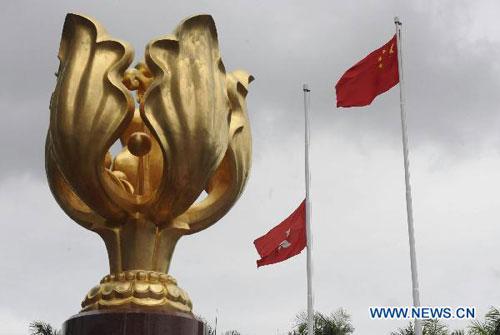 The regional flag of China's Hong Kong Special Administrative Region (L) flies at
half-mast in front of the Queen Elizabeth Stadium in Hong Kong, south China, Aug.
24, 2010, to mourn for the victims who were killed during the hostage-taking
incident in the Philippines. (Xinhua/Lo Ping Fai)
Chief Executive Donald Tsang said Monday night that all government offices would keep flags at half-mast Tuesday while principal officials would cancel unnecessary activities to mourn the dead.
Major newspapers in the city were printed in black and white Tuesday. Home pages of government websites were also turned black and white.
Hong Kong Exchanges Clearing Ltd (HKEx) held a 10-minute memorial ceremony before the stock opened.
A 21-member Hong Kong tour group aboard a bus was hijacked by a dismissed Filipino policeman earlier in the day. The crisis ended on Monday night with eight killed, seven injured, one of whom is in critical conditions, Philippine government officials said.
Hong Kong has issued the Black Outbound Travel Alert for the Philippines.
The black alert is the highest level of Hong Kong's three-sign Outbound Travel Alert system, indicating a "severe threat" exists and all travel to the destination should be avoided.