LHASA, Aug. 24 (Xinhua) -- The usually sunny city of Lhasa has been soaked in rain for three days, a rare occurrence on the "roof of the world."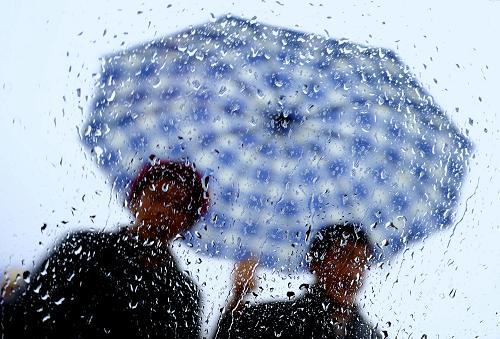 The locals walk in the rain with an umbrella on Aug. 23, 2010, photo from Xinhua.
"I have never seen Lhasa soaked in rain for such a long time," said Jiang Fengwu, who has worked in Lhasa for more than 20 years.
The rain began falling Saturday night and lasted until 2 p.m. Sunday. It then started falling again Monday morning and did not stop until early Tuesday.
Rainy weather has affected Lhasa over the past four weeks, too.
The rain has been such a nuisance for the locals that one Tibetan office worker, Jigme, changed his screen name to "Stop raining."
"Lhasa received 72.3 millimeters of rain between Aug. 17 and 23, almost two-thirds of the volume of the past month," said Liu Yijun, head of the city's weather bureau.
He said rain was likely to continue to fall for the rest of the week, too.
The rain has raised the water level of the Lhasa River to 3.91 meters, far higher than its average in early summer of two meters. Even so, it is still below the 4.76-meter flood-warning level.
At an average attitude of 3,700 meters, Lhasa is famous for its ample sunshine -- average sunshine exposure is more than 3,000 hours per year, equivalent to eight hours per day.
Lhasa's rainy season lasts from July to September. But then, more than 70 percent of the rain falls at night, because it is often too hot during the day to allow the convection currents to produce wind and rain.
Over the past week, however, the maximum temperature in Lhasa has been about 20 degrees Celsius, down from the normal 28 degrees Celsius of midsummer.
"Comparatively low temperatures and moist air that has hovered over Lhasa has caused the persistent rain," said Liu Yijun.
The gloomy weather has disappointed the tourists who covet Lhasa's sunshine and azure sky.
"I had expected to get a nice suntan," said Zhao Ting from Chengdu in neighboring Sichuan Province.