SAN FRANCISCO, Aug. 24 (Xinhua) -- The transition of natural search between Yahoo and Microsoft is completed in the United States and Canada with Microsoft's search engine Bing now powering Yahoo search results, the two companies announced on Tuesday.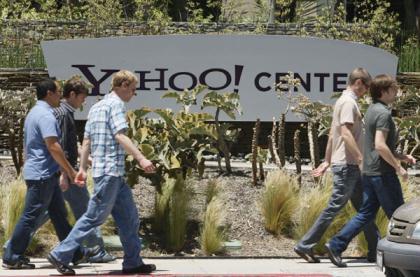 People walk past Yahoo offices in Santa Monica, California, May 19,
2008.(Xinhua/Reuters File Photo)
Yahoo's Web, image and video search in English on both desktop and mobile devices are being powered by the Microsoft platform in the U.S. and Canada, Shashi Seth, senior vice president of Yahoo's search products, wrote in a blog post.
The transition with other languages "will come in weeks and months ahead," Satya Nadella, senior vice president of Microsoft's online services division, said in a separate post on Microsoft's blog.
"We are happy to report the transition has gone smoothly and we feel great about the progress our search alliance has been making over the summer," Nadella said.
The two companies said they will continue to work on Yahoo's shift to using adCenter, Microsoft's search advertising platform, a process which is expected to be completed later this fall.
Both executives from Yahoo and Microsoft hailed the latest development as a "milestone" in the two companies' Internet search and advertising partnership.
In a move to challenge search market leader Google, Yahoo and Microsoft reached a 10-year deal in July 2009.
Under their agreement, Microsoft's Bing search engine will process search requests and steer search-related ads on Yahoo. Yahoo is due to get 88 percent of the revenue generated from the ads placed alongside the search results on its sites.
Editor:Zheng Limin |Source: Xinhua