BEIJING, Aug. 25 (Xinhua) -- China will work with France to expand bilateral cooperation and advance economic and trade links, said China's top legislator Wu Bangguo Wednesday.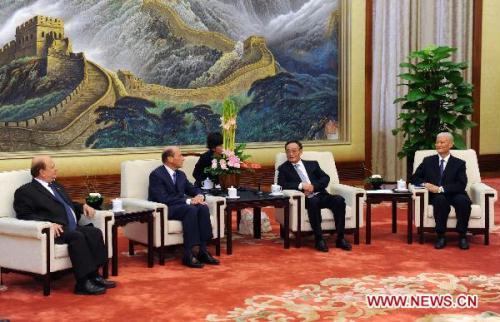 Wu Bangguo (2nd R), chairman of the Standing Committee of China's National
People's Congress (NPC), meets with a delegation of Sino-French Friendship Group
of the French National Assembly and the Senate in Beijing, China, Aug. 25, 2010.
(Xinhua/Li Tao)
Wu, chairman of the Standing Committee of the National People's Congress (NPC), made the remarks in a meeting in Beijing with a delegation of the France-China friendship group of French parliament.
Wu said the promotion of ties between China and France, both influential nations, accorded with the fundamental interests of the two peoples and would help world peace and development.
China valued relations with France, and would work to strengthen mutual political trust and promote bilateral economic cooperation with a view to keeping China-France ties at the forefront of ties between China and Western nations, Wu said.8 The NPC, China's legislative body, would expand exchanges and cooperation with the French parliament to help push forward state-to-state relations, he said.
The French delegation, led by chairman of the friendship group Michel Herbillon and Senate Chairman Jean Besson, are visiting China at the invitation of the NPC.
They said they would contribute to relations between the two parliaments and the two nations.
Editor:Zhang Jingya |Source: Xinhua