BEIJING, Aug. 26 (Xinhua) -- China Thursday urged the Philippines to clearly investigate a Manila bus hijacking that ended with eight Hong Kong tourists dead.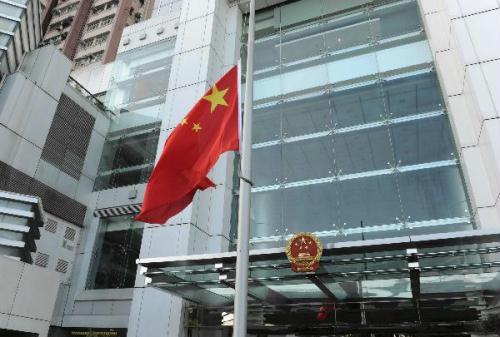 Chinese national flag flies at half mast in front of the Liaison Office of the
Central People's Government in the Hong Kong Special Administrative Region (HKSAR),
in Hong Kong, south China, Aug. 26, 2010. Hong Kong Chief Executive Donald Tsang
led senior government officials in a mourning ceremony in Golden Bauhinia Square
Thursday morning for victims in the hostage-taking tragedy in Manila, the
Philippines.(Xinhua/Li Qiuchan)
"We believe what's most imperative is to get a clear investigation result of the incident as soon as possible," said Chinese Foreign Ministry spokeswoman Jiang Yu when asked to confirm reported senior Philippine officials' China visit over the incident.
An ex-policeman turned gunman hijacked a tour bus carrying 21 Hong Kong tourist Monday morning in Manila. The incident ended with eight tourists dead and several others injured. The hostage taker was killed in police assault.
According to earlier reports, Philippine President Benigno Aquino III said Tuesday that Vice-President Jejomar Binay and Foreign Secretary Alberto Romulo will go to Beijing to submit a report on the hostage incident after the investigation was completed.
Jiang said the Chinese side and the Philippines are keeping in close touch over the incident, and China has repeatedly stressed its stance to the Philippine side.
As to the the possible visit of Philippine officials, the two sides are also keeping in touch, she said.
Related stories