BEIJING, Aug. 26 (Xinhuanet) -- Nedong county, southeast of Lhasa, is an oasis of tranquility and home to the region's first palace as also its first village.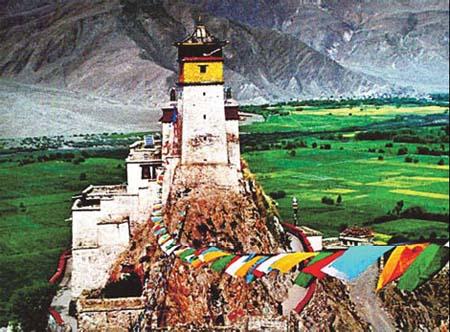 Shannan prefecture is home to many "firsts", such as the first Tibetan palace
Yambulakang. (Source: China Daily/ Asia News Photo/Yu Zhiyong )
Riding an early morning bus with a dozen Tibetans in Nedong county feels surreal. Listening to them make small talk in their own language feels even more unreal. While the morning ride is commonplace for the locals going about their everyday chores, it is a whole new experience for an outsider like me in the very heart of Tibet autonomous region.
August is the harvest season in Tibet, and the weather is most pleasant. The cool climes offer a perfect escape from the wilting heat of other parts of the country. Mysterious Tibet becomes even more attractive to travelers.
From the crowded capital city Lhasa to the sparsely populated western Ali area, hordes of tourists from home and abroad can be seen everywhere. Hotel rates as well as prices of admission tickets to popular tourist draws, such as Potala Palace, also begin to climb.
The oasis of tranquility in Nedong county of Shannan prefecture - an area to the southeast of Lhasa known as the cradle of Tibetan history and culture - offers a welcome respite. Although Nedong county, Shannan's cultural and administrative center, is no more than 200 kilometers from Lhasa and about 100 km from the region's major airport, it is not known to many tourists.
Indeed, driving half an hour to the south along the two-lane asphalt road, which leads to the China-India border area, I do not see a single tour bus.
When the bus arrives at its final stop, only a handful of visitors can be seen and some are already trudging along the steep mountain path and halfway to their final destination, Yambulakang, the first-ever Tibetan palace.