The Yichun plane crash in northeast China has killed 42 people and injured 54 others. Among them, were a pair of newlyweds, Beijing Evening News reported Thursday.
Zhou Binhao, the husband, is the air-hoster of the crashed plane, and Lu Lu, the flight purser. The two married seven months ago when the bridegroom sent a marriage ring to his bride by an electrical helicopter model at their wedding ceremony. But the pair of newlyweds ended their life when the Airplane VD8387 of Henan Airline crashed in northeast China city Yichun on Tuesday.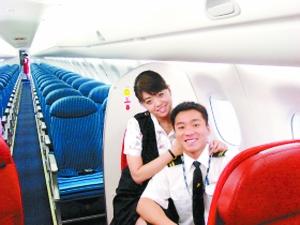 Lu Lu (the left) and Zhou Binhao (the right) were
the flight crew of the crashed airplane. The newlyweds
died in the crash on August 24, 2010, only 198 days
after their marriage.[Photo: Xinhua]
According to their friends and relatives, Zhou Binhao and Lu Lu was the only child in their own family. They got acquainted with each other when they worked for Henan Airline and after seven years of romance they got married in February this year. Both of them were very dedicated in their work and held positive views towards life.
"Maybe this disaster verifies their wedding vows that they would stay with each other all their lives," one of their friends said.
The passenger plane VD8387 of Henan Airline with 96 people on board crashed during landing at a forests-surrounded airport in northeast China's Heilongjiang Province amid thick fog on August 24, 2010.