WASHINGTON, Aug. 27 (Xinhua) -- Former U.S. President Jimmy Carter on Friday returned to the United States from the Democratic People's Republic of Korea (DPRK) with an American citizen freed by the Asian country.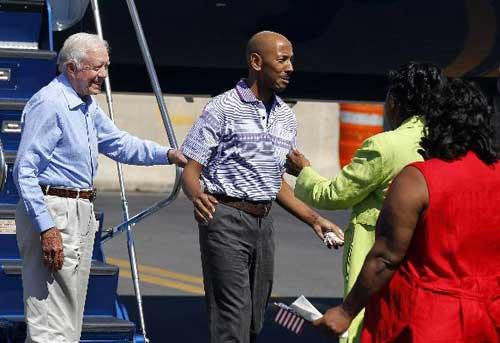 Aijalon Gomes is directed to his family by former President Jimmy Carter at Logan
International Airport in Boston, Aug. 27, 2010.(Xinhua/Reuters Photo)
Carter and Aijalon Mahli Gomes, the U.S. man detained by the DPRK since January, arrived in Boston, Massachusetts, by the same civilian jet which Carter took when he flew to the DPRK capital of Pyongyang two days ago to negotiate the release of the U.S. citizen.
Gomes, a 30-year-old from Boston who once taught English in South Korea, was detained by the DPRK on Jan. 25 for illegal entry into the country.
On April 6, Gomes was sentenced to eight years' imprisonment and fined about 700,000 U.S. dollars.
Carter, the second former American president in a year after Bill Clinton to visit DPRK to secure the release of U.S. prisoners, made the trip in his capacity as a private citizen, without any U. S. government officials in his company.
Carter, a Nobel peace laureate, had visited the DPRK in 1994.
According to the DPRK's official KCNA news agency, during Carter's trip, he made an apology to Kim Yong Nam, president of the Presidium of the Supreme People's Assembly, for Gomes' illegal entry and gave the assurance that such incident will never happen again.
He also asked Kim to convey to top DPRK leader Kim Jong Il a message courteously requesting him to grant special pardon to Gomes to leniently forgive him and let him go home.
The KCNA said after receiving a report on the request made by the U.S. government and Carter, Kim Jong Il issued an order of the chairman of the DPRK National Defense Commission on granting amnesty to Gomes.
The U.S. State Department welcomed the release of Gomes, saying in a statement that "we appreciate former president Carter's humanitarian effort and welcome the DPRK's decision to grant Mr. Gomes special amnesty and allow him to return to the United States. "
In a related development, the KCNA reported that Kim Yong Nam said during his meeting with Carter that the DPRK is willing to resume six-party talks on the nuclear issue of the Korean peninsula.
Related stories