BEIJING, Aug. 27 (Xinhua) -- Chinese Premier Wen Jiabao has urged government officials at all levels to strictly follow the laws and regulations in a bid to steer away from corruption and ensure the good of the public.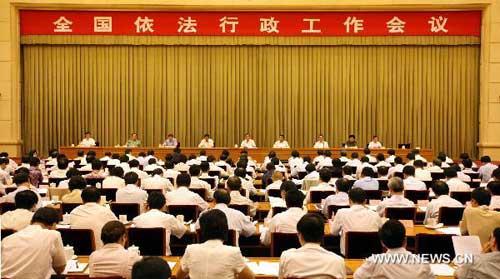 Chinese Premier Wen Jiabao delivers an important speech during a national meeting
on lawful administration in Beijing, capital of China, Aug. 27, 2010.
(Xinhua/Yao Dawei)
"In a peaceful time, corruption is the greatest danger for a ruling party, and the basic reason for corruption is that powers are not properly supervised and restricted," Wen said Friday during a national meeting on lawful administration.
He called it a "major test" for the government to handle graft issues properly.
Wen said the task of building a lawful government is the basic guarantee for promoting social fairness and justice, a key measure for anti-corruption and also an essential part for the reform of the country's political system.
"Currently our country's economic and social development has entered a new phase. More challenges have emerged as domestic and overseas environments become more complicated. We should deepen reform while promoting administration in accordance with the laws in order to solve new problems," he said.
According to Wen, a sound market environment with fair competition can only be created when the government uses laws and regulations to manage various market entities, provide services for them and ensure their rights.
He urged officials to strengthen legislation in key fields in order to solve deep-seated problems in the economic and social development, and ensure public ideas be fully reflected during the legislation process.
Further, Wen called for scientific and democratic decision-making.
"Before making a major decision, the idea must be examined as to whether it is in accordance with the laws. If it goes beyond the authority of the decision makers or goes against the laws, the idea should be discarded," he said.
Wen also called for a transparent and open government work system as long as it doesn't involve state secrets, commercial secrets or individual privacy.
He cited key areas that should be open to the public including financial budgets, management of public resources, major construction projects and charities, among others.
In addition, Wen urged improving the current administrative supervision system and called on government departments to protect civilians' rights to directly supervise the government and support media exposure on illegal activities and improper behavior by government officials.
Related stories