BEIJING, Aug. 29 (Xinhuanet) -- A relaxed home is whatever you want it to be, and such is the case with Barbara Alighiero, who pampers herself with soothing colors, exotic upholstery, curios and lots of books in a traditional siheyuan courtyard close to the Drum Tower in Beijing.
Beijing's courtyards that open off the small hutongs (lanes) still house some residents but the vast majority were torn down in recent years to make way for real estate development. Many people left the narrow lanes where their families lived for generations.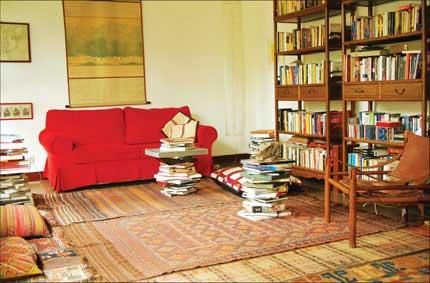 Shelves full of books, a few pieces of carpet, a vibrant red-colored couch
and abundant light bring Alighiero's reading room to life and create a
restful, self-indulgent atmosphere.(Source: Shanghai Daily)
Alighiero, director of Italian Cultural Institute in Beijing, rent this 400-square-meter courtyard house in 2008.
It was an extraordinary find: Siheyuans are especially prized because they are perfect squares with equal sides, a symmetry highly prized in Chinese culture.
A siheyuan (courtyard house) is a historical type of residence that was commonly found in northern China, most famous in Beijing. The name literally means a courtyard surrounded by four buildings.
"My criteria for a house are that it has to be full of light, in the center of the town and possibly with a garden or a terrace. This little siheyuan is perfect.
"Above me, I have only the sky and a tree gives a beautiful shade in the garden," she said.
"My only worry is that the destruction of old Beijing will go on. The old neighborhood is in danger of destruction and it is important to keep at least part of Beijing as it used to be," she added.