SEOUL, Aug. 30 (Xinhua) -- South Korean President Lee Myung-bak said Monday that the recent withdrawal of his Prime Minister- nominee allegedly involved in corruption scandals will serve to keep his "fair society" drive going, his office Cheong Wa Dae said.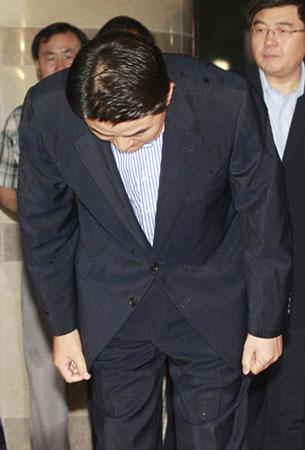 South Korea's Prime Minister-nominee Kim Tae-ho
bows before he announced that he has withdrawn
his candidacy at a news conference in Seoul
August 29, 2010. (Xinhua/Reuters Photo)
"(I) accepted the withdrawal of the prime minister-designate and (would-be) ministers, as Cheong Wa Dae needs to be the ground for creating a fair society," the president said in a meeting with senior presidential secretaries, according to his office. The " fair society" campaign has been the centerpiece of Lee's administration, which is halfway through its single five-year term.
The comment came after Kim Tae-ho, a former governor appointed to become the country's youngest prime minister in nearly four decades, offered to step down Sunday after failing to clear suspicions over his involvement in high-profile graft scandals during confirmation hearings last week.
Accused of apparently unethical conducts, two others tapped as culture and economy ministers also withdrew. There are currently no immediate replacements for the vacant posts.
"Cheong Wa Dae and others in public service should set the example for others" in promoting the value of a fair society, Lee said.
Editor:Zhang Pengfei |Source: Xinhua