PARIS, Aug. 29 (Xinhua) -- The powerhouse China bagged all five golds at the Badminton World Championships on Sunday, repeating its sweeping triumph 23 years ago.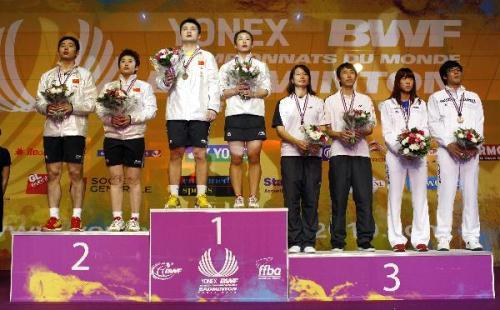 China's Zheng Bo (3rd L)/Ma Jin (4th L) and He Hanbin (L)/Yu Yang (2nd L) stand on
the podium after the mixed doubles final at the 2010 World Badminton Championships
in Paris, France, on Aug. 29, 2010. Zheng Bo/Ma Jin claim the title after winning
the match against He Hanbin/Yu Yang with 2-0.(Xinhua/Tang Shi)
In the first final on Sunday, Zheng Bo/Ma Jin clinched their first world champion titles in the mixed doubles by beating teammates He Hanbin /Yu Yang in straight sets.
The eighth seeds Zheng/Ma took control of the whole match, defeating the sixth seeds He/Yu 21-14, 21-10 after 42 minutes.
This is China's first gold in the event at the World Championships since 2001.
The men's singles shuttler Chen Jin followed Zheng/Ma's triumph to clinch his maiden world champion title by smashing Indonesian ace Taufik Hidayat also in straight sets.
China's Wang Lin edged out teammate Wang Xin to take the women' s singles title at the Badminton World Championships on Sunday.
The fourth seed Chen overplayed the former world and Olympic champion Hidayat 21-13, 21-15, marching one step further to the top as he lost to teammate Lin Dan in last year's final.
The women's singles and doubles finals were both featured fights between Chinese players.
As a result, the seventh seed Wang Lin needed 58 minutes to overcome the third seed Wang Xin 21-11, 19-21, 21-13 before the Olympic champions Du Jing/Yu Yang defeated the top seeds Ma Jin/ Wang Xiaoli 21-9 and 21-17.
The men's doubles final pushed the tournament to a hightlight as Cai Yun/Fu Hai Feng come frome behind to defended their titles
After winning over Malaysian's top seeds Koo Kien Keat and Tan Boon Heong 18-21, 21-18, and 21-14, Cai/Yu ensured China to bag all of the five golds in the competition.
The next World Championships is to be held in London in 2011.
Related stories