BEIJING, Aug. 30 (Xinhua) -- Jia Qinglin, chairman of the Chinese People's Political Consultative Conference (CPPCC) National Committee, spoke highly of the country's private business people here Monday for their long-term efforts in the Guangcai (Glory) poverty-eradication program.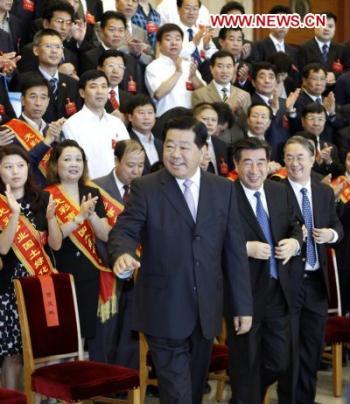 Jia Qinglin Front), chairman of the National Committee
of the Chinese People's Political Consultative Conference,
meets with delegates to the fourth leaguers congress of
China Society for Promotion of Guangcai Program (CSPGP)
in Beijing, capital of China, Aug. 30, 2010. CSPGP is a
non-governmental organization with the aim of promoting
traditional Chinese virtues and accelerating common
affluence. (Xinhua/Liu Jiansheng)
Jia, also member of the Standing Committee of the Communist Party of China (CPC) Central Committee Political Bureau, gave his cordial thanks to a group of delegates attending a meeting of the China Society for the Promotion of the Guangcai Program (CSPGP), including those from Hong Kong and Macao.
The private sector should be active in education, medical, cultural and employment-boosting programs, as well as in infrastructural and environmental work, in the poverty-stricken areas, Jia said.
The leader also advised the Society to increase exchange with the United Nations organizations and non-government organizations abroad.
On April 23, 1994, the China Guangcai Program was launched to help fight poverty in economically backward areas in response to the government's Eighth Seven-Year Anti-Poverty Plan (1994-2000).