BEIJING, Aug. 30 (Xinhua) -- China and the United States Monday underscored their close economic relationship and called for its healthy growth.
"China and the United States share very close economic ties," Chinese Vice Premier Wang Qishan told a U.S. delegation led by two Missouri senators - Christopher Bond and Claire McCaskill.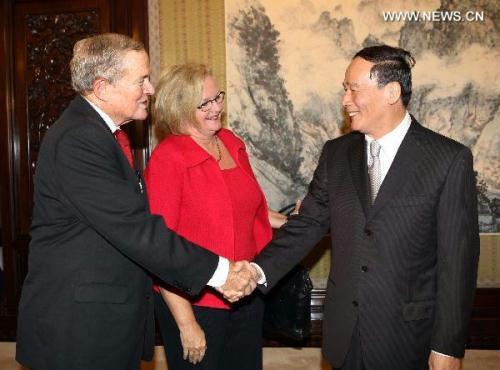 Chinese Vice Premier Wang Qishan (R) meets with U.S. senators Claire McCaskill
(C) and Kit Bond (L) in Beijing, capital of China, Aug. 30, 2010. (Xinhua/Liu
Weibing)
Wang said bilateral cooperation in trade, economy, investment and finance generate substantial benefits for both peoples.
"Both sides should work together to create a sound environment for a positive, cooperative and comprehensive China-U.S. relationship in the 21st century," Wang said.
Bond and McCaskill echoed Wang's comments, calling on the two countries to oppose trade protectionism.
On global economy, Wang said the recovery of the global economy would be bumpy.
"All countries are confronted with the common challenge of seeking robust, sustainable and balanced economic growth."
Wang also said the Chinese government would "make efforts to strike a balance between maintaining steady and fast economic growth with the restructuring of the economy and the curbing of inflation."
The two senators are leading a delegation of nearly 20 leaders from a variety of Missouri businesses, trade unions and universities.
During their stay in Beijing, the delegation will meet with officials from the commerce, foreign affairs, civil aviation and agriculture departments.
They will also travel to Shanghai on east China's seaboard, where they will call on local officials and tour the ongoing World Expo.
Editor:Zhang Jingya |Source: Xinhua