The tallest building in Beijing, China World Trade Center Tower 3, opened officially on Monday, August 30.
The 74-storey skyscraper reaches a height of 330 meters and covers an area of 300,000 square meters.
The building's 7th to 53rd floors are all reserved for use as office space. A hotel and restaurants are located on the top few floors. There is also a helicopter landing pad on the roof.
The building is reportedly luxurious, with four crystal lamps imported from the Czech Republic. The elevator takes people to the top floor in just 38 seconds.
Measures have also been taken to ensure Tower 3's safety in the event of an earthquake, and there are special areas where people can take refuge if a fire breaks out.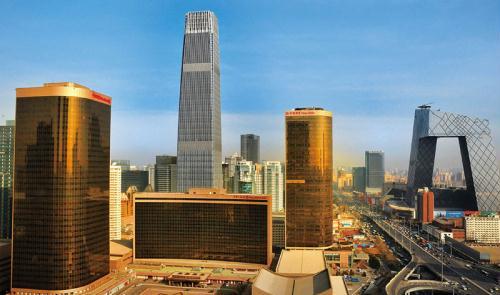 The newly-opened China World Tower III dwarfs its surroundings in the Central
Business District (CBD) of Beijing. The tower, one part of the third phase of the
China World Trade
Center, opens
officially on Monday, August 30. (File Photo)