MANILA, Aug. 31 (Xinhua) -- More than 4,000 people attended a memorial service held here Tuesday for the victims of hostage crisis at the Quirino Grandstand in Manila, where the incident took place on Aug. 23.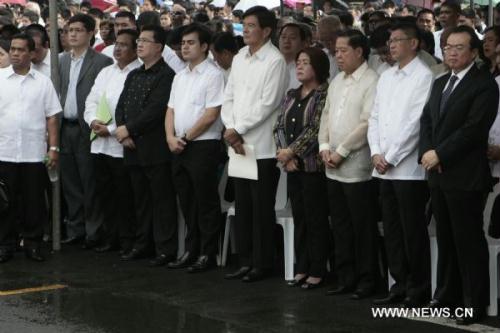 Chinese Ambassador to the Philippines Liu Jianchao(1st R) and other Philippine
and Chinese government officials and people from various sectors attend a mass
mourning for the killed Hong Kong hostages at the Quirino Grandstand, Manila,
capital of the Philippines, on Aug. 31, 2010.(Xinhua/Jon Fabrigar)
"This terrible case is also calling out to heaven for justice. Not only the Chinese are calling for a just and swift investigation of this case. We Filipinos demand the same from our officials. Bring out the truth let those who are responsible whoever they may be held accountable. No whitewash. No scapegoats. Let there be new life for our justice system," Manila Auxiliary Bishop Broderick Pabillo said in his homily.
Participants included Chinese Ambassador to the Philippines Liu Jianchao, Philippine Executive Secretary Pacquito Ochoa Jr., Justice Secretary Leila de Lima, Tourism Secretary Alberto Lim and Manila Mayor Alfredo Lim.
Also on hand at the memorial service were members of the Filipino-Chinese community, Buddhist monks and hundreds of students from schools and universities in Manila, who prayed for the hostage victims.
Philippine Justice Secretary Leila de Lima said prior to the mass that investigation on the hostage taking incident is well underway. Her department has received a number of reports regarding investigation results in various aspects and is waiting the final and complete investigation report. She believes it will to come out some time this week.
Chinese Ambassador Liu Jianchao said the memorial mass hosted by the government of Manila City is a show of sympathy of Filipinos to the Chinese people. At this sad moment, people of both countries hope that the deceased would rest in peace and that the hostage incident would not hamper the relations between China and the Philippines.
Liu said he met investigators from Hong Kong on Monday and they expressed satisfaction over the cooperation from their counterparts in the Philippines.
"I believe the Sino-Filipino relations could turn over this sad leaf and continue developing in a smooth and healthy way," he said.
An ex-policeman hijacked a bus with 21 Hong Kong tourists in Manila on Aug. 23. The 11-hour long hostage-taking incident ended with eight tourists dead and injury of seven others.
Related stories