ISLAMABAD, Sept. 1 (Xinhua) -- The death toll has risen to 30 following a massive terrorist attack in Pakistan's eastern city of Lahore on Wednesday night, and the government of Punjab province has declared three days of mourning starting from Thursday, reported local media.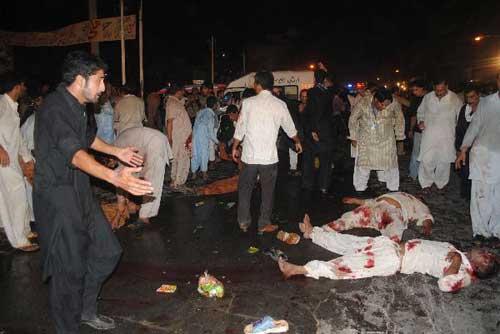 People gather around a blast site in Lahore, eastern Pakistan, on Sept.1, 2010
The death toll has risen to 30 and more than 200 people were injured in three
blasts in Lahore on Wednesday night, reported local media. (Xinhua/Malik Sajjad)
All the public and private institutions across the province will be closed during the three-day mourning, according to a statement issued by the provincial government.
More than 200 people have been injured in three blasts that went off among large crowds of Shiite Muslims marching in the city to mark the death anniversary of Ali, the son-in-law of Prophet Muhammad.
A Punjab-based terrorist group named Lashkar-e-Jhangvi which comprises Sunni Muslims have claimed the responsibility for the attack.
According to the reports, the first blast, which is a low- intensity explosion, took place at about 6:50 p.m. local time during a religious procession at Karbala Gamay Shah area of Lahore city, injuring a number of people.
The second blast, which is reportedly a suicide blast, occurred about 25 minutes later at a nearby place named Bhati Chok. The suicide bomber blew himself up among the crowds of people during the religious procession.
The third blast, also a suicide blast, happened ten minutes later at a place called Anarkali, causing a heavy casualty among the people marching in the procession.
Following the three blasts, all the local hospitals in the city have declared emergency.
Angry people who have lost their beloved ones in the three blasts launched protest against police by torching police stations and setting vehicles on fire.
Rangers, a special task force of the Pakistani army, have been deployed in Lahore, obviously in a bid to control the situation over there.
Related stories