BEIJING, Sept. 1 (Xinhua) -- Chinese Vice President Xi Jinping Wednesday asked Party and government officials to carefully use the power in their hands and to take responsibility to serve the people.
Xi made the remarks at the opening ceremony of the fall semester at the Party School of the Communist Party of China Central Committee.
Xi, who is also head of the Party School, said the power of the Party and government officials is given by the people and should be used for the people in line with the Marxist perspective on power.
He said every power coexists with responsibility and having a sense of responsibility is a very important criterion for evaluating an official who should always accept supervision along with the restrictions of discipline and laws.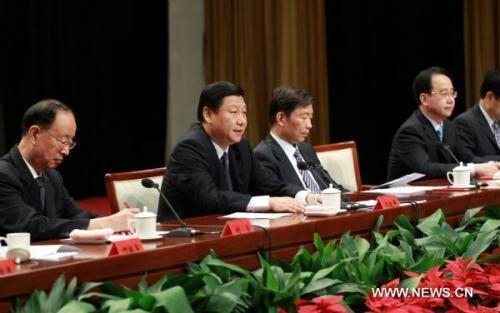 Chinese Vice President Xi Jinping (2nd L), who is also president of the Party
School of the Central Committee of the Communist Party of China, delivers a
speech during the opening ceremony of the fall semester of the Party School,
in Beijing, capital of China, Sept. 1, 2010. (Xinhua/Pang Xinglei)
Related stories