ANYANG, Henan, Sept. 1 (Xinhua) -- Chinese experts and amateurs are still questioning the claim by China's archaeological authority that an ancient tomb belongs to Cao Cao, a cunning general and ruler some 1,800 years ago.
Yan Peidong, an amateur archaeologist, told Xinhua Wednesday that he has collected evidence showing some of the items excavated from the tomb, in Xigaoxue Village of Anyang, Henan Province, had been purposely forged.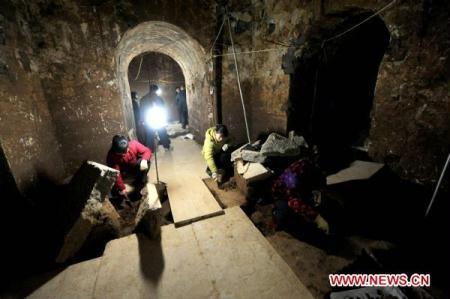 The file picture taken on Dec. 30, 2009 shows archaeologists clean up the
archaeological site where the Mausoleum of Cao Cao is located in Anyang, a
city in central China's Henan Province. The Mausoleum of Cao Cao, a legendary
Chinese warlord during the Three Kingdoms period (208-280 A.D.), has recently
been declared as Cultural Relics under Provincial Protection. The tomb is
located near the Yellow River and the city of Anyang, where Cao Cao ruled the
Kingdom of Wei from 208 to 220, when he died at the age of 65.
(Xinhua/Zhu Xiang)
Citing one of his discoveries, Yan, a native of Hebei Province, said he had visited an illegal workshop in Henan where workers admitted they had made fake items for the tomb.
However, Pan Weibin, chief archaeologist leading the authorized excavation project of the tomb, made an announcement on Aug. 27 saying the excavation was conducted using scientific methods and more than 400 items so far found in the tomb were genuine.
He further said he was considering filing a suit charging critics with slander.
Pan also refuted Yan's previous claim that his excavation team had accepted more than 2.3 million yuan (more than 337,600 U.S. dollars) from the Anyang government.