BRUSSELS, Sept. 2 (Xinhua) -- Negotiators from European Union ( EU) member states and the European Parliament reached a deal late Thursday to establish a new financial supervision architecture across the 27-nation bloc.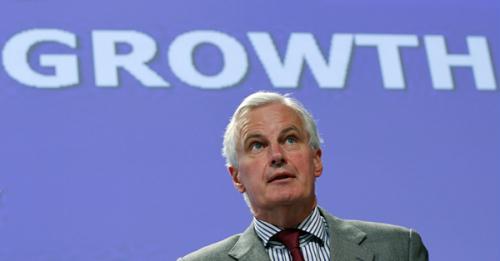 European Commissioner for Internal Market and Services Michel Barnier
addresses a news conference at the EU Commission headquarters in Brussels
June 2, 2010.(Xinhua/Reuters File Photo)
"We have reached a crucial milestone. We have reached a political consensus on the creation of a European financial supervisory framework," said Michel Barnier, EU commissioner for market regulation and a mediator in the talks.
Under the compromised agreement, three new pan-EU financial watchdogs will be created by the start of next year to oversee banks, insurance companies and trading on markets.
The three new watchdogs will enjoy limited power to overrule decisions made by national regulators and have a final say when arbitrating a dispute between EU member states, such as the multinational bailout of Fortis at the beginning of the financial crisis. If no agreement can be reached, they can even impose supervisory decisions on the financial institution concerned.
The new watchdogs will also be able to monitor how national supervisors implement their obligations under EU law. If these obligations are implemented incorrectly, they may raise the alarm, issue instructions to the national supervisor concerned and, if these go unheeded, directly instruct the financial institution to remedy any breach of EU law.
Acting as police in EU financial markets, the new watchdogs will have the power to investigate specific types of financial institution, financial product, such as a "toxic" product, or financial activity such as naked short selling, to assess what risks they pose to a financial market.
When specific financial legislation regulates these areas of activity, or in emergency situations, they may temporarily prohibit or restrict harmful financial activities or products, and may also ask the European Commission, the EU's executive arm, to introduce legislative acts to prohibit such activities or products permanently.
Barnier said he was ready to present legislative texts in the coming days to regulate derivatives and short-selling which would build on the powers of the new authorities.
Naked short selling was blamed for worsening the financial crisis and the ongoing European debt crisis.