OTTAWA, Sept. 2 (Xinhua) -- The Canadian Space Agency (CSA) announced Thursday that veteran astronaut Chris Hadfield will return to space for a third time and become the first Canadian Commander of the International Space Station (ISS) in March 2013.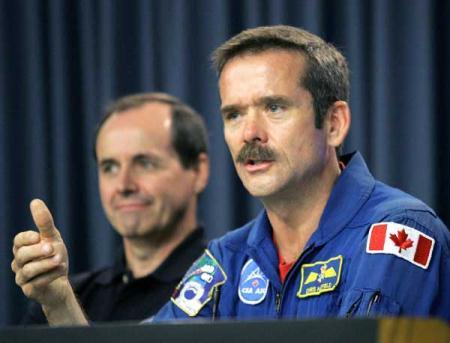 Canadian astronaut Chris Hadfield (R) gestures during a news conference at
the Kennedy Space Center in Cape Canaveral, Florida, August 26, 2006.
(Xinhua/Reuters file photo)
Hadfield will launch aboard a Russian Soyuz rocket in December 2012, and take command of the station during the second half of a six-month mission, Canadian Minister of State (Science and Technology) Gary Goodyear said at a news conference at CSA headquarters in Longueuil, Quebec.
This will be the second long-duration mission for a Canadian astronaut.
"To have this opportunity is extremely challenging, extremely exciting for me and extremely rewarding as well," Hadfield told the news conference.
It will be the astronaut's third trip to space. Hadfield, who was born in Sarnia, Ontario and is married with three children, was first selected to become an astronaut in June 1992.
He added that there is some recreational time. The station has a Canadian-made guitar aboard, and all of his crew is guitar players.
"The selection of a Canadian astronaut for a long-duration mission and as Commander of the International Space Station reflects the achievements of our space exploration program and the renowned quality of our Canadian Astronaut Corps," Goodyear said.
Hadfield's crew will consist of himself, a Russian and an American, and they will join three other astronauts already on the station.