BAOSHAN, Yunnan, Sept. 3 (Xinhua) -- The death toll from mudslides that hit a village in southwest China's Yunnan Province Wednesday has climbed to 15, and 33 are still missing, the rescue headquarters said Friday.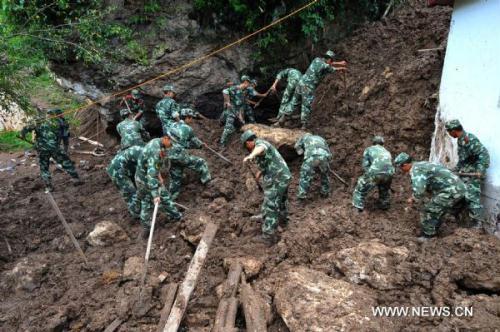 Rescuers work at the scene of landslide at Dashifang Village in Baoshan City,
southwest China's Yunnan Province, Sept. 2, 2010. The landslide happening on
the night of Sept. 1 has left at least fifteen people dead and 33 others
missing.(Xinhua/Chen Haining)
Eight people were injured and are in stable condition after the accident, which happened at about 10:20 p.m. Wednesday in Hedong Village of Longyang District in Baoshan City, said a headquarters spokesman.
An initial investigation blamed the tragedy on loose dirt and rocks sitting on a sleep slope, which had been soaked by rain for about 10 days.
The debris, as big as 40,000 cubic meters, came crashing down to the densely populated village, trapping 71 people from 21 families.
More than 1,000 people have participated in the rescue operation and more than 120 medical workers are treating the injured and disinfecting the site.
Tents, quilts, clothes and plenty of first-aid materials have been sent to the site.
Rescuers are relocating survivors to safe areas.
Editor:Du Xiaodan |Source: Xinhua