HOUSTON, Sept. 3 (Xinhua) -- British oil company BP on Friday removed a failed blow-out preventer (BOP) from its damaged well in the Gulf of Mexico, a company spokesman said.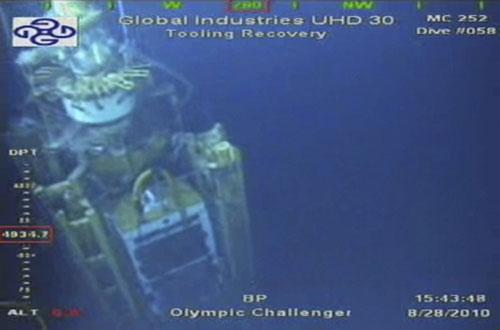 The containment capping stack is pictured as work continues at the site of the BP
oil well leak in the Gulf of Mexico, in this image captured from a BP live video
feed August 28, 2010. (Xinhua/Reuters File Photo)
"The Deepwater Horizon BOP stack was successfully detached" from the ruptured Macondo well at 1:20 p.m., said BP spokesman Daren Beaudo, adding the removal l "appears to have gone very smoothly and as planned."
The BOP is designed to close off a well if oil or gas uncontrollably rushes to the top. But the Deepwater Horizon BOP failed to do so in the case of the April 20 rig explosion in the Gulf of Mexico.
The company is planning to attach a replacement blowout preventer on the well.
The replacement of the BOP is to "allow operations to complete the relief well to resume," the company said in an earlier statement.
It said "depending upon weather conditions, mid-September is the current estimate of the most likely date by which the relief well will intercept the MC252 well annulus."
The removal of the BOP was in question earlier this week because of the unknown status of thousands of feet of drill pipe believed to be suspended below the device.
The detaching process was monitored by officials, said Thad Allen, the top U.S. official tasked to oversee the oil spill response.
"This procedure was undertaken in accordance with specific condition I set forth last week in a directive authorizing the capping stack removal, which was completed yesterday," said Allen.
BP removed the capping stack, a key piece of equipment that stopped the oil leak on July 15, on Thursday afternoon.
After a new BOP is installed, BP plans to continue drilling the remaining feet of a relief well to realize a "bottom kill" of the underwater oil gusher.
Editor:Zhang Pengfei |Source: Xinhua