WELLINGTON, Sept. 4 (Xinhua) -- At least two people were seriously injured after a massive earthquake struck New Zealand's South Island city of Christchurch and the wider South Island on Saturday morning, causing widespread damage and power blackouts in most of the city.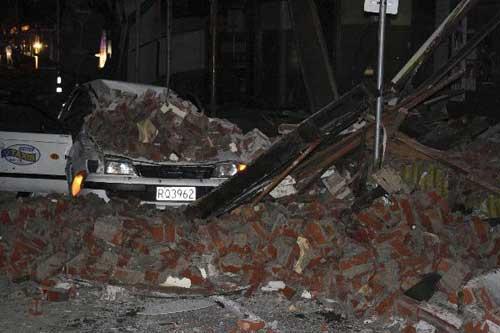 A car lies under fallen rubble in Christchurch, New Zealand after a powerful
7.4-magnitude earthquake struck much of New Zealand's South Island early
Saturday Sept. 4, 2010. (Xinhua/Reuters Photo)
Christchurch Hospital has treated two people seriously injured by falling masonry and glass, The Press reported on Saturday.
One man, in his 50s, was in serious condition in hospital after being hit by a falling chimney. Another man had serious injuries after being cut by glass.
The hospital has treated a number of people with broken bones, and others with minor injuries such as cuts and bruises.
Xinhua reporters in Christchurch saw some old buildings seriously damaged. And Christchurch airport was closed. The city CBD area was also closed to public.
New Zealand Civil Defense has placed some 1,000 residents in the seaside suburb of New Brighton on standby to evacuate as flooding looms as a major issue following the massive earthquake.
The magnitude-7.1 earthquake struck about 40 km west of Christchurch at 4:35 a.m. on Saturday (1635 GMT Friday), at a depth of 10 km, causing injuries, structural damage and gas leaks, cutting off power, and rupturing water and sewerage mains.
The New Zealand Institute of Geological and Nuclear Science ( GNS Science) earlier put the magnitude at 7.4.
There have been several aftershocks, the strongest at 4.7 magnitude, GNS Science reported.
Related stories