The traditional clothes worn by African natives over thousands of years have had a modern makeover.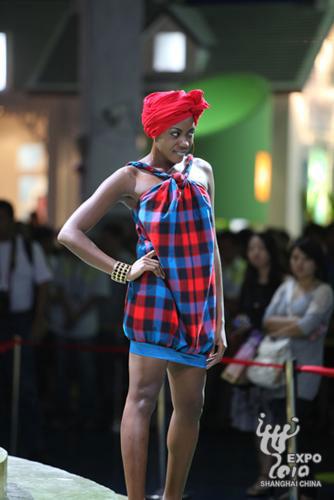 A model from Africa shows off clothing.
The new designs made their debut yesterday at a fashion show featuring African fabrics in the Joint Africa Pavilion.
Professional models from African countries paraded the catwalk wearing the traditional clothes with a modern touch backed by African music at the "African Fabrics: Fashion Forever" show.
The show, on a stage in the pavilion, will be repeated throughout the duration of the Expo.
A British fashion designer cooperated with one of her Chinese counterparts to use a number of traditional fabrics in modern styles.
Farrah Narz from Scotland and Cai Lingxiao from Shanghai had never been to Africa but were inspired after visiting the African pavilion and spent a month designing the clothes.
"The fabrics decorating the pavilion were not only cloth, but had stories and involved various cultures and history," said Narz, who studied fashion design in Shanghai and Paris.
"I aimed to make the traditional clothes into 21st century looks. They can be formal evening dresses as well as casual ones on streets," she said.
In one of her designs, she made "Shemma," a hand woven white cotton cloth sewn together in long strips from Ethiopia, into a formal party dress. She used shiny threads woven into the fabric for an elegant effect.
Cai was inspired by some traditional dances and exhibits in the pavilion. One of her works is a long skirt that sways freely as the models walk, imitating the swinging movement of the sega, the national dance of Mauritius.
Another work was inspired by a traditional doll played with by the Herero women from Namibia.
"The project was originally developed to introduce African fabrics and traditional style to Expo visitors, but in the spirit of inspiration and innovation, we wanted to take it a step further to make it a creative design challenge to showcase the special African fashion styles to visitors," said Helina Tesega from Ethiopia, the show's director.